Programme
Summary
The Erasmus Mundus Joint Master Degree (EMJMD) in WAter and COastal MAnagement WACOMA is a 2-years Master Degree/Second Cycle Degree – 120 ECTS.
Tuition language: ENGLISH.
The EMJMD WACOMA promotes academic excellence through the implementation of a teaching programme that aims at developing common understanding and at deepening scientific knowledge in the vital, challenging and continuously evolving field of water and coastal ecosystems.
It is specifically addressed to water and coastal hazards and risks, and their interrelations with global changes and use of resources. Consistent with the percepts of management sciences, it also concerns mitigation and adaptation to changes and it deals with the relevant aspects of a sustainable green and blue economy.
The WACOMA programme links natural sciences and societal challenges, focusing on biology, geology, management, law and economics, thus being both multidisciplinary and interdisciplinary.
Main objectives and expected outputs
The course objective is to train managers and scientists for Water and Coastal Zone Risk Management, with a solid knowledge of environmental and legal instruments.
Study Plan
WACOMA - Academic Activities - Course Structure 2020/2021
WACOMA - 1st Semester Class Timetable at UNIBO 2020/2021
WACOMA - 2nd Semester Class Timetable at UCA 2020/2021
Please note: lessons may be in person, virtual, or mixed.
For your information, please have a look at the Academic Year 2019/2020.
WACOMA – Intensive School on Hot Topics at UALG 2019/2020
WACOMA – 2nd Semester Class Timetable at UCA 2019/2020
Download Wacoma 2nd Semester Teaching Modules - University of Cadiz, Spain
Mobility Scheme
The activities of WACOMA will start in August 2018 for the first cohort and will follow the same teaching and mobility ​ for the following years (Aug 2019 for the second cohort; Aug 2020 for the third cohort).
WACOMA offers the opportunity to visit three different EU Countries during the first year: Students welcome takes place at UNIBO (Ravenna, Italy), where they remain from August to January. 30 ECTS of compulsory modules are offered by UNIBO.
In the second semester starting form February students move to UALG (Faro, Portugal) for Winter School with practical courses and hot topics in the field.
Then, they will move to UCA (Cadiz, Spain), and remain there until the end of the first year (August).
During these months at UALG and UCA, students will gain the remaining 36 ECTS, choosing 2 ECTS teaching modules within a wide offer and completing the first year.
To gain the 54 ECTS of the second year, students based in Bologna OR Cadiz OR Faro (at their choice, made by the end of the first year) work on the Master thesis, and may visit Associated Partners, for a max of 3 months; they also perform Internship at Academic or Non-Academic Partners (8 ECTS).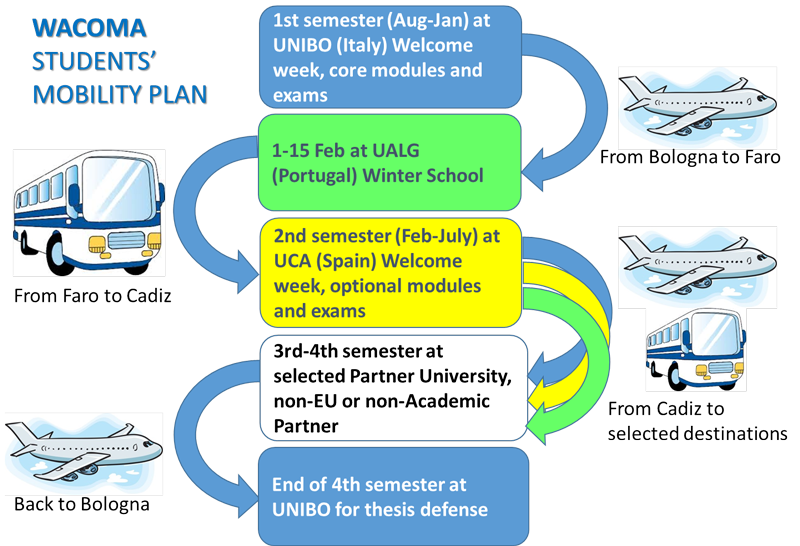 Hot Topics in Integrated Coastal Risk Management – Intensive School
WACOMA Students will participate in a 2-week Intensive School on specific hot topics related to Water and Coastal Management; the topics will be different each year. Such activity is part of the EMJMD WACOMA Mobility Scheme.
When: End of 1st Semester each academic Year (February).
Where: at UALG, Faro - Portugal.
Duration: 2 weeks.
Programme of the 2-week School Schedule: Please find the programme scheduled for the 2-weeks intensive School on Hot topics. WACOMA Students will be receiving daily updated information on the following day.
Materials: Articles and specific academic material on the Hot Topics are timely and accurately made available to students.
Students' performance evaluation: and ongoing assignments system has been set up in order to assess students' participation and performace. The evaluation will be based on an individual report.
Assessment methods (grading system): The grading system is 0-20 and A-F (ECTS).
Number of ECTS: 6.
Code: 88421
Type of activity: (B) Core learning activity.
Attendance: mandatory
Students' feedback and Quality assessment: Ongoing monitor and feedbacks form the students. The Partner University Local Coordinator, Professor Alice Newton will take care of collecting daily feeedbacks and comments from the students so to monitor and adjust the programme accordingly.
Practicalities: Accommodation will be agreed upon prior to students' arrival. WACOMA Consortium Universities (Unibo, Uca, Ualg) and Wacoma students will jointly plan the travel and accommodation for the 2-weeks intensive school.
Photo gallery 1st Wacoma student's intake (2018/19)
Photo gallery 2nd Wacoma student's cohort (2019/20)
Services and Facilities for WACOMA Students
UNIBO - University of Bologna – Ravenna Campus. 1st semester - Academic Year 2020/2021

Italian Language Courses
International and Intercultural Events
Students' Handbook (UNIBO)
Buddy System

UALG – University of the Algarve – Gambelas Campus. 2-week Intensive School - Academic Year 2020/2021
UCA – University of Cadiz – Puerto Real Campus. 2nd semester - Academic Year 2020/2021
Internship
During the second year, WACOMA Students perform a compulsory Internship activity (8 ECTS) at an Academic or Non-Academic Partner, preferably within WACOMA Consortium. Upon prior agreement with the degree awarding Universities, students may as well carry out the internship activities at an institution outside the Consortium.
The host organization will: appoint a supervisor, agree upon a project, set the objectives and the skills the student is expected to develop, the tasks that will be assigned, the methodologies and the time framework; at the end of the experience the supervisor will be asked to evaluate the overall student's experience and achievements.
The internship will be recognized and included in the student's study plan according to each University set of rules (pass/fail or grade).
Students' Internship testimony »»
Exams, re-sit possibilities, evaluation grid
Exams
UNIBO: Written and Oral exams: Written exam integrated by a mandatory oral examination. The written exam is composed by two parts corresponding to the two modules of the course. The two parts are evaluated independently. Prerequisite for the oral examination is to obtain a minimum grade of 18/30 in the written exam. Fieldwork: fieldwork activities for data collection will be prepared well in advance and will be followed by data elaborations in class; it is an integral part of the program and will be evaluated (in reports, essays or slide presentations). Labs and indoor practical activities are included in the teaching activities; UCA: Oral exams: At the master's level, written exams or submission deadlines are agreed between the lecturer and the students for each module, providing that the final marks can be delivered on time. Modules taking place during the second / first (soft skills) semester must publish their final grades before July 15th / February 15th. Students with special disabilities (e.g. dyslexia, blindness) may request an oral exam. Fieldwork modules which include fieldwork activities may request the students to submit a written report on the activity, as described in the corresponding syllabus; UALG: oral exams: Students who are close to a pass mark may be called for an oral exam to verify if they reach the pass mark. Students with special disabilities (e.g. dyslexia, blindness) may also request an oral exam; - written exams: Written exams are less usual at the post-graduate level but do occur for some of the modules e.g. the Portuguese language module; - fieldwork: Students have fieldwork assignments during the Intensive course and, in some cases "Fieldwork skills" as part of their postgraduate skills. The intensive course assignment is evaluated by the institutional coordinator of WACOMA. The Fieldwork skills, if relevant to the research project, are evaluated by the supervisor(s).
Re-sit options
UNIBO: Students are given the opportunity to re-sit the exams for a maximum of 3 times (each module set its own maximum number of res-sit options), the last obtained mark (above 18/30) will be the one included in the transcript. Failure to pass an exam is not indicated in the transcript of records; UCA: Students can re-sit during the official re-sit period in September. Should a student fail the full academic year (e.g., the thesis and internship), he/she must request permission to the Rector to be allowed to enroll and continue his/her studies; UALG: Students can re-sit in Epoca de Recuso (Resits, usually for students who were absent for illness etc), Epoca de Melhoria (usually for students with low marks) and Epoca Especial (for special, justified cases).
Evaluation grid
UNIBO: Exams are marked with a grade between 0 and 30 (max 30 cum laude) with 18/30 as pass mark. The final degree evaluation scale is 0-110 (max 110/110 cum laude if the board unanimously agrees). The final grade results from hte average of the grades obtained in the subject exams plus the quality of the work performed in research and in the final thesis defence.
UCA Marks: The Spanish grading system is used (0-4.9 = fail, F; 5.0-6.9 = pass, E-D; 7.0-8.9= good, C; 9.0-9.9 = very good, B; 10 = excellent, A). Student's transcripts are provided to the other partner Universities. Since the University of Cadiz issues the EMJMD diploma and provides the students with the WACOMA official transcript of records, all the grades corresponding to modules carried out at another partner University must be converted to the Spanish system.
UALG marks: Grading is on a 0-20 scale, with 9,5 as pass mark. Transcripts of marks are sent to the partner Universities;
Attendance requirements: The EMJMD WACOMA is a full time Master Degree, attendance is compulsory (in presence or online).
More detailed information is available in the Students' agreement.
Final Degree awarded and Diploma Supplement
At the completion of their studies, students will obtain a multiple degree, that is a Joint and a single Degree in Water and Coastal Management.
Joint degree:
Gestão da Água e da Costa - Erasmus Mundus; Master Universitario Erasmus Mundus en Gestión de Agua y Costas / Water and Coastal Management.
Single degree:
Students will obtain a single Italian National Degree in Laurea Magistrale in Analisi e Gestione dell'Ambiente (Classe delle Lauree LM-75 – Scienze e Tecnologie per l'Ambiente e il Territorio).
The Coordinating Institution, the University of Bologna will issue a Diploma Supplement on behalf of WACOMA consortium.
Master thesis final examination: modalities
To graduate, you have to sit a final examination designed to verify that you have reached the education objectives set by the Degree Programme
The final examination consists in writing a dissertation on a subject pertinent to your studies, elaborated in an original way, under the guidance of a supervisor. The dissertation will be discussed publicly during a specific final examination session in front of a Board.
The Board will assess your performance using your curriculum as a reference. During the dissertation discussion, you may use slides and the Commission may ask you in-depth questions on methods, results and any developments of your work.
3rd cohort Graduation call date: 12th – 13th July 2022
Please read carefully the GRADUATION NOTICE 2021/22
DOWNLOAD WORD FORMAT TO FILL IN THE REQUESTED DOCUMENTS AND UPLOAD THEM ONLINE: