Third WACOMA Cohort Graduation and WACOMA Symposium 2022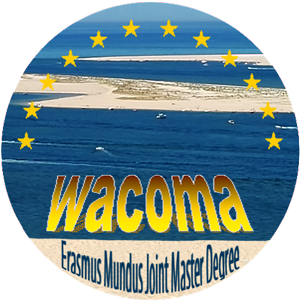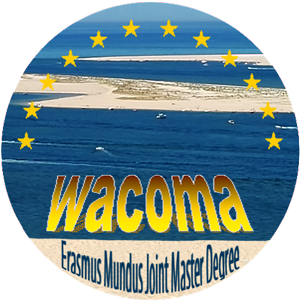 In the end, the Erasmus+ project WACOMA – Water and Coastal Management held at the Ravenna Campus, is finished last Friday 15th July 2022. 4 days of events involved our last cohort of students.
After 2 days of the discussion of their master thesis for the Academic Year 2020/2021 in front of the Academic Board, 19 students from 16 Countries have been awarded the title of "Dottore Magistrale". Supervisors and Co-Examiners their dissertation thesis as an output of their research period spent at one of the 3 Consortium partners (Ravenna, Cadiz or Faro).
Students represent several countries, from several continents; Africa (Ethiopia, Kenya, Mauritius, Mozambique, South Africa), America (Brasil, Colombia, Guatemala, Mexico, Paraguay, USA), Asia (India, Myanmar, Philippines, Sri Lanka), and Europe (Armenia, Ireland) The final results are very amazing: 7 students got the maximum grade (110/110) according to the Italian system, 4 of whom also got CUM LAUDE. All the other students also got a very high grades.
Prof. Elena Fabbri, UniBO, the WACOMA coordinator, said "We are very proud!! and we wish these 19 Wacoma students, coming from 17 different Countries, have a great future and a successful career as Erasmus Mundus graduates!!"
Prof. Alice Newton, UALG, remarked "It makes us all proud to see the success of these Early Career Professionals and the results of their hard work and studies. They have had a difficult 2-years but have made use of time to build themselves into well-prepared water and coastal managers. Well done to all!"
Finally, Prof. Irene Laiz, UCA, declared that "During their thesis presentation and discussion, the students showed a remarkable professionalism and maturity acquired during the 2-year Erasmus Mundus studies, which made us very proud. Furthermore, we are equally proud of the strength, resilience, and humanity they have shown during two long and difficult years of worldwide pandemic. They have an excellent potential to become the great professionals our world needs! My heartfelt congratulations to all of them and my best wishes for their personal and professional successes!!"
The Rector of the University of Bologna, prof. Giovanni Molari, handed out certificates of participation, while the Director of the Department BIGEA, prof. Alessandro Chiarucci placed the laurel wreaths on students' heads, at the end of the Final Ceremony.
The WACOMA SYMPOSIUM in Water and Coastal Management on the 14th and 15th was aimed to provide insights on aquatic, environmental and coastal marine sciences, water and coastal hazard and risk mitigation, climate change impacts on coastal areas and green economy. International scientists, representatives of the Associate Partners, as well as the WACOMA Alumni exchanged their experiences and knowledge. Keynote speakers gave inspiring talks on related topics.
The Book of Abstracts is available here: https://eventi.unibo.it/wacoma-symposium
PRESS RELEASE
GRADUATES' CELEBRATIONS